From the onslaught of 'noise' in the marketplace these days, finding your voice (or better still, using it loudly enough to reach) can be challenging.
This challenge is no different for the social network professional leading the way in promoting your brand, product, or business.
What's so very cool about today's growing freelance segment, however, is the opportunity for collaboration, and the willingness for so many to join on a project – while largely leaving their egos, agendas, and solo mantras at the proverbial door.
"As a business owner, startup launch, or even the serial entrepreneur, if you're trying to wrap your head around the collaboration concept, think of it like the Home General Contractor of the marketing world."

– Joe Trevors
Just this week (thus this article) we were asked to open DENNER Media up to collaboration with another Marketing Firm, as well as third creative talent in the space for the launch of an exciting brand. While the brand is exciting in and of itself, the parallel excitement in bringing together 3 different agencies and groups of creatives is palpable.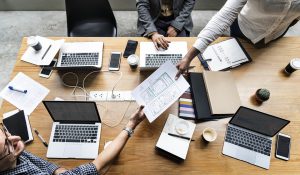 And hey, the benefits are extended to everyone involved in this collaborative effort, or any you may be involved in. Newer to the business? Chances are you'll be working alongside some amazingly talented, seasoned veterans. Been around a while? Upside is you can impart some of your wily marketing savvy to the next generation of cat-herders and wordsmiths.
Better still, if you're the client, you've not captured the best anyone's money can buy (on your comparable budget). You now have the perspective of a variety of Agency interpretations, a multitude of talent (which may even span generations), and unlimited opportunity in vetting products and ideas, split-tests, gaps, and more, all thanks to any number of professional and personal circles that your collaborators travel in.
"Great things in business are never done by one person; they're done by a team of people."

– Steve Jobs
Homes get built based on a variety of specialties and influences. From the architect, to the contractor, subs in electrical, plumbing, tile, and more, to the exterior finishes, paving companies, and landscapers. And yes, while there are certainly companies out there who do ALL of those things as part of their offering, you get a uniquely varying perspective in hiring individual firms to bring the vision of your new home together.
So too, with your brand and marketing campaign.
Next time you're considering telling the world all about your brand, company, product, or talent, by plastering it all over social media, or throwing up some cool pics on Twitter or Instagram, consider a team in collaboration before going any further. And yes, we'd love to be involved, so reach out to me here, and let's chat about it!
Please Share With Others, and Follow Us Here: